Republic of Maldives
Dhivehi Raajjeyge Jumhooriyyaa
The Maldives are 1,192 islands of very small surface area divided into 26 atolls of coral origin; they are located less than 500 km south-west of India and from north to south they cover an 800 km stretch of the Indian Ocean. Tourism has developed since the 1970s and has gradually taken over other economic activities, making the Maldives one of the most popular international destinations.
Government type Presidential republic
Area 298 km˛ (115 sq mi)
Population 402,000 inh. (2014 census)
579,000 inh. (2022 est.)
Population density 1,943 inh/km˛ (5,035 inh/mi˛)
Capital Malé (242,000 pop.)
Currency Maldivian rufiyaa
Human development index 0.747 (90th place)
Languages Maldivian (Dhivehi)
Life expectancy M 77 years, F 80 years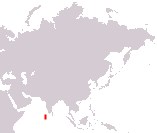 Boundaries:
Surrounded by the Indian Ocean
ADMINISTRATIVE DIVISIONS OF MALDIVES
The first administrative level of the Maldives consists of the islands (189), the atolls (18) and 4 cities, each administered by their own local council.