Principality of Monaco
Principauté de Monaco
The Principality of Monaco is the 2nd smallest country in the world and due to its small surface it borders only with France and to the south-east it faces the Mediterranean Sea. The location and above all the tax benefits have made Monaco one of the most popular places for wealthy people, with many sportsmen, for example, that have their residence here.
Government type Constitutional monarchy
Area 2.08 km² (0.80 sq mi)
Population 37,300 inh. (2016 census)
39,100 inh. (2023)
Population density 18,798 inh/km² (48,875 inh/mi²)
Capital Monaco (39,100 pop.)
Currency Euro
Languages French (official), Monegasque, Italian
Life expectancy M 85 years, F 89 years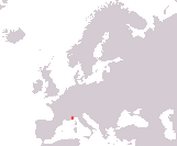 Boundaries:
France
NORTH, WEST and EAST
Mediterranean Sea SOUTH-EAST
ADMINISTRATIVE DIVISIONS OF MONACO
The whole territory of Monaco is urbanized, with the city divided into 4 districts: Monaco, Monte-Carlo, La Condamine and Fontvieille.