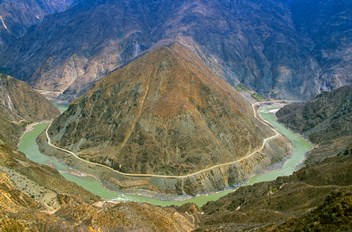 The Yangtze, in China, is the longest watercourse on the Continent and originates in the Tibetan Plateau, in an area of Asia where some of the other main rivers originate, such as the Yellow River, Mekong, Indo and Brahmaputra.

Of the first 12 Asian rivers, 8 have a stretch, and in two cases the entire course, in Chinese territory; 5 instead flow in Russia.

The major streams flow into the sea, with the exception of Syr Darya and Amu Darya which are tributaries of what remains of the Aral Sea and Ural, which like the Volga, a European river, ends its 'journey' in the Caspian Sea; three tributaries also belong to this ranking.



River
Length (km)
Length (mi)
Mouth
Countries
Yangtze (1)
6,300 km
3,915 mi
East China Sea
China
Yenisey (2)
5,539 km
3,442 mi
Kara Sea
Mongolia, Russia
Yellow River
(Huang He)
5,464 km
3,395 mi
Bohai Sea
China
Ob-Irtysh (3)
5,410 km
3,362 mi
Kara Sea
China, Kazakhstan, Russia
Amur (4)
4,444 km
2,761 mi
Sea of Okhotsk
China, Russia
Mekong
4,350 km
2,703 mi
South China Sea
China, Myanmar, Laos, Thailand, Cambodia, Vietnam
Lena
4,337 km
2,695 mi
Laptev Sea
Russia
Indus
3,200 km
1,988 mi
Arabian Sea
China, India, Pakistan
Syr Darya (5)
3,026 km
1,880 mi
Aral Sea
Kyrgyzstan, Uzbekistan, Tajikistan, Kazakhstan
Nizhnyaya Tunguska
2,989 km
1,857 mi
Yenisey
Russia
Brahmaputra
2,900 km
1,802 mi
Bay of Bengal
China, India, Bangladesh
Salween
2,815 km
1,749 mi
Andaman Sea
China, Myanmar, Thailand
Euphrates (6)
2,800 km
1,740 mi
Persian Gulf
Turkey, Syria, Iraq
Vilyuy
2,650 km
1,647 mi
Lena
Russia
Amu Darya (7)
2,540 km
1,578 mi
Aral Sea
Afghanistan, Tajikistan, Uzbekistan, Turkmenistan
Ganges
2,480 km
1,541 mi
Bay of Bengal
India, Bangladesh
Ishim
2,450 km
1,522 mi
Irtysh
Kazakhstan, Russia
Ural (8)
2,428 km
1,509 mi
Caspian Sea
Russia, Kazakhstan
* in some cases the course of the main tributary is included either because the length is greater or because the river does not always have the same name or it arises from the confluence of other rivers, which are in effect the initial part of the same river



(1) Third longest river on the planet.
(2) Including Selenga and Angara as primary branches, otherwise the length is 4,167 km (2,589 mi).
(3) The Ob has a course of 3,676 km (2,284 mi), the length include its major tributary, the Irtysh (4,248 km - 2,640 mi).
(4) It arises from the confluence of Shilka and Argun, the latter considered as the main branch.
(5) It arises from the confluence of Kara Darya and Naryn, the latter included in the measurement.
(6) It joins the Tigris, the other river that forms Mesopotamia, 190 km before its mouth.
(7) Due to the excessive withdrawal of its waters it does not reach the Aral in minimum flow periods.
(8) Its course marks part of the border between Asia and Europe.