Saint Lucia
Saint Lucia is located in the Caribbean, between Martinique to the north and Saint Vincent and the Grenadines to the south; it is part of the Lesser Antilles and is of volcanic origin. The economy has been linked for decades to the cultivation and export of bananas, in recent years the development of other sectors, such as tourism and finance, has begun.
Government type Parliamentary constitutional monarchy
Area 617 kmē (238 sq mi)
Population 165,600 inh. (2010 census)
180,000 inh. (2022 est.)
Population density 292 inh/kmē (756 inh/miē)
Capital Castries (22,000 pop.)
Currency Eastern Caribbean dollar
Human development index 0.759 (86th place)
Languages English (official), Creole-French
Life expectancy M 75 years, F 77 years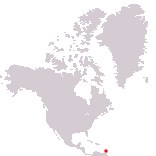 Boundaries:
Surrounded by the Atlantic Ocean
ADMINISTRATIVE DIVISIONS OF SAINT LUCIA
Saint Lucia is administratively divided into 10 districts, with that of Gros Islet which is the largest (101 kmē), while that of the capital Castries is by far the most populated, with over 65,000 inhabitants.