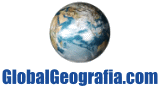 Home > North and Central America
North America is made up of 3 large states (Canada, United States of America and Mexico) in addition to the nations of Central America and the Caribbean islands; also part of the territory is Greenland, the largest island in the Globe, which is an autonomous county of Denmark. Canada and the USA together occupy 88% of the surface area (excluding Greenland); the average altitude is 720 meters, with the western part of the Continent crossed by a long mountain range that continues to Panama.

North and Central America has many different territorial and climatic areas; they range from the numerous and extensive islands of Canada to the smaller ones of the Caribbean. The climate changes from polar to tropical in the southern offshoots; the water basins are distributed throughout the continent, with the presence of large lakes on the US-Canada border.
Area: 24,709,000 km² (9,540,000 sq mi)
Population: 584,700,000 (2019 estimates)
Pop. density: 24 inhab/km² (61 inhab/sq mi)

Most populous city: Mexico City (8,844,000 inhab., 21,804,000 urban aggl.)
Highest mountain: Denali 6,190 m (20,308 ft)
Lowest point: Death Valley -86 m (-282 ft)
Longest river: Mississippi-Missouri 6,157 km (3,826 mi)
Largest lake: Superior 82,100 km² (31,699 sq mi)
Largest island: Greenland 2,130,800 km² (822,706 sq mi)

Biggest cities | Highest mountains | Longest rivers | Largest lakes | Largest islands | Countries and Capitals
North and Central America Countries and Dependent Territories