Republic of the Marshall Islands
Aolepan Aorokin Majel
Marshall Islands are over a thousand islands and islets north of the Gilbert archipelago (Kiribati) and Nauru and east of Micronesia and Northern Mariana; they gained independence from the United States of America in 1990.
Government type Parliamentary republic
Area 181 kmē (70 sq mi)
Population 42,600 inh. (2021 census)
Population density 235 inh/kmē (609 inh/miē)
Capital Majuro (23,200 pop.)
Currency United States dollar
Human development index 0.704 (117th place)
Languages English, Marshallese (both official)
Life expectancy M 71 years, F 75 years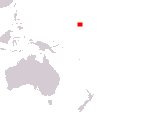 Boundaries:
Surrounded by the Pacific Ocean
ADMINISTRATIVE DIVISIONS OF MARSHALL ISLANDS
The country is administratively divided into 34 units, with those of Majuro and Kwajalein being the most populated and together host just over 3/4 of the population of the Marshall Islands.