Federated States of Micronesia
Archipelago that stretches from east to west for almost 3,000 kilometers, formed by two main groups, the Caroline and the Yap islands; only a few islands reach a relevant surface, geographically they are located between Papua New Guinea and Solomon to the south, Northern Mariana and Marshall to the north-east.
Government type Federal parliamentary republic
Area 702 kmē (271 sq mi)
Population 102,800 inh. (2010 census)
105,000 inh. (2022 est.)
Population density 150 inh/kmē (387 inh/miē)
Capital Palikir (6,600 pop.)
Currency United States dollar
Human development index 0.620 (136th place)
Languages English (official), Austronesian languages
Life expectancy M 66 years, F 69 years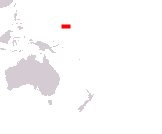 Boundaries:
Surrounded by the Pacific Ocean
ADMINISTRATIVE DIVISIONS OF MICRONESIA
Micronesia is a federation made up of 4 states: Chuuk, Kosrae, Pohnpei and Yap; Pohnpei is the largest state, while Chuuk is the most populated.