Republic of Nauru
Ripublik Naoero
Nauru is a small island located just south of the Equator, west of the Gilbert Islands (Kiribati). This small republic has become one of the richest nations in Oceania thanks to the extraction of phosphates, but today in the process of being depleted.
Government type Parliamentary republic
Area 21 kmē (8 sq mi)
Population 11,500 inh. (2019 census)
Population density 547 inh/kmē (1,437 inh/miē)
Capital Nauru does not have an official capital, government offices are located in Yaren (810 pop.)
Currency Australian dollar
Languages English, Nauruan (both official)
Life expectancy M 63 years, F 71 years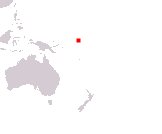 Boundaries:
Surrounded by the Pacific Ocean
ADMINISTRATIVE DIVISIONS OF NAURU
Nauru is administratively divided into 14 districts, the most populated are Meneng and Aiwo, with the first being also the largest along with that of Anibare.