Republic of Palau
Beluu er a Belau
Palau is the westernmost country of Oceania (excluding Australia), and is made up of over 340 islands, many tiny and only 9 inhabited. Independence from the United States is quite recent (1994); to the east, a few hundred kilometers away are the Yap islands (Micronesia), Indonesia and the Philippines a little further away.
Government type Presidential republic
Area 488 kmē (188 sq mi)
Population 17,600 inh. (2020 census)
Population density 36 inh/kmē (96 inh/miē)
Capital Ngerulmud (320 pop.)
Currency United States dollar
Human development index 0.826 (50th place)
Languages Palauan, English (both official)
Life expectancy M 68 years, F 78 years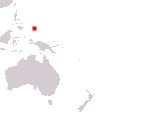 Boundaries:
Surrounded by the Pacific Ocean
ADMINISTRATIVE DIVISIONS OF PALAU
Palau is administratively divided into 16 states, 10 of which are on the island of Babeldaob, the largest island of the archipelago; Ngatpang and Koror are the 2 largest states (65 kmē), with the last one hosting just under 2/3 of the country's entire population.