Independent State of Samoa
Malo Sa'oloto Tuto'atasi o Samoa
Samoa is a country that includes the two western and largest islands of the archipelago of the same name, the others are under American jurisdiction; geographically Samoa is located in the south-central part of the Pacific Ocean.
Government type Parliamentary republic
Area 2,831 kmē (1,093 sq mi)
Population 200,000 inh. (2021 census)
Population density 71 inh/kmē (183 inh/miē)
Capital Apia (35,000 pop.)
Currency Samoan tala
Human development index 0.715 (111th place)
Languages Samoan, English (both official)
Life expectancy M 71 years, F 75 years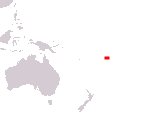 Boundaries:
Surrounded by the Pacific Ocean
ADMINISTRATIVE DIVISIONS OF SAMOA
Samoa is administratively divided into 11 districts, 6 on the island of Savai'i and 5 on that of Upolu; 3/4 of the population lives on the second island, smaller but much more densely populated.