Kingdom of Tonga
Pule'anga Fakatu'i 'o Tonga
Tonga includes various groups of islands and islets of volcanic origin, in all about 175, of which less than a third are inhabited. This small monarchy is located in the South Pacific, south of Samoa and east of Fiji; most of the population lives on the main island of Tongatapu, where the capital is also located.
Government type Parliamentary monarchy
Area 748 kmē (289 sq mi)
Population 100,200 inh. (2021 census)
Population density 134 inh/kmē (347 inh/miē)
Capital Nuku'alofa (21,200 pop.)
Currency Tongan pa'anga
Human development index 0.725 (104th place)
Languages English, Tongan (both official)
Life expectancy M 69 years, F 73 years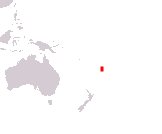 Boundaries:
Surrounded by the Pacific Ocean
ADMINISTRATIVE DIVISIONS OF TONGA
Tonga is mae up of 5 administrative units, further divided into a total of 23 districts; on the island of Tongatapu lives just under 3/4 of the population.