Tuvalu
Tuvalu is one of the smallest countries in the world and is made up of 9 atolls and islands, spread over an area of 700 kilometers; the closest territories are the Gilbert Islands (Kiribati) to the northwest and Wallis and Futuna (France) to the southeast.
Government type Parliamentary monarchy
Area 26 kmē (10 sq mi)
Population 10,600 inh. (2017 census)
11,300 inh. (2022 est.)
Population density 435 inh/kmē (1,130 inh/miē)
Capital Funafuti (6,300 pop.)
Currency Tuvaluan dollar, Australian dollar
Human development index 0.641 (130th place)
Languages English, Tuvaluan (both official)
Life expectancy M 68 years, F 72 years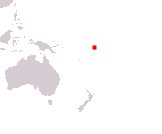 Boundaries:
Surrounded by the Pacific Ocean
ADMINISTRATIVE DIVISIONS OF TUVALU
Tuvalu is administratively divided into 9 districts, one of which, Funafuti, is referred to as the country's official capital, with government offices located in the village of Vaiaku.