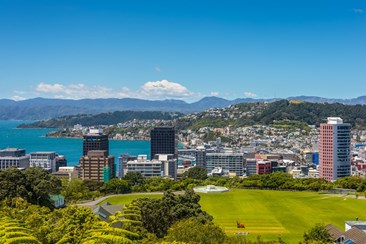 In the table below a summary with all the capitals of Oceania, you find also a useful map with their position on the continent and the population updated to the latest data or available estimates, both of the city itself and of its urban agglomeration.

None of the capitals of Oceania exceeds half a million inhabitants, although there are some large cities on this continent, such as Sydney or Melbourne in Australia and Auckland in New Zealand.

Palau is home to the smallest capital in the world, Ngerulmud, which has just 320 inhabitants! However, it is not the only one of modest size, because even the capitals of Micronesia and Tuvalu are simple villages with a few thousand people.

Nauru does not have an official capital, but is identified in Yaren, where the government offices of this tiny state, just 21 kmē wide, are located.



Flag
Country
Capital
Population
Urban aggl.
Elevation
Australia
Canberra
479,000
479,000
577 m
Fiji
Suva
94,000
186,000
5 m
Kiribati
South Tarawa
63,100
63,100
3 m
Marshall Islands
Majuro
23,200
23,200
3 m
Micronesia
Palikir
6,600
6,600
80 m
Nauru
No official Capital
Government offices are in Yaren
800
800
25 m
New Zealand
Wellington
216,000
433,000
13 m
Palau
Ngerulmud
320
320
70 m
Papua New Guinea
Port Moresby
383,000
383,000
28 m
Samoa
Apia
36,000
36,000
2 m
Solomon Islands
Honiara
130,000
130,000
29 m
Tonga
Nuku'alofa
21,200
21,200
3 m
Tuvalu
Funafuti
6,300
6,300
1 m
Vanuatu
Port Vila
49,000
49,000
59 m
* data on urban agglomerations updated to 2022 (estimates), those on population according to official data or more recent estimates of the national statistical services, when different from urban agglomerations.